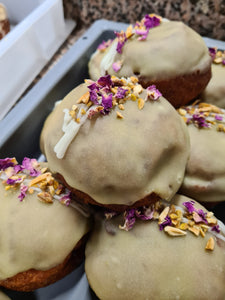 This exquisite doughnut is the perfect blend of beauty and indulgence. Inspired by Persian Love Cake, its jam-filled center is surrounded by a light and fluffy doughnut coated in a Pistachio glaze & sprinkled with crushed Pistachios & dried Rose Petals, making it a luxurious treat to behold. Enjoy a classic delight with a refined twist!
Baked fresh to order. Best enjoyed on the day of delivery. See Shelf Life for more information.
Ingredients
Water · White Rice Flour · Granulated Sugar · Icing Sugar (Icing Sugar · Anti Caking Agent (Calcium Phosphates)) · Pistachio Paste · Vegetable Shortening (Palm Oil · Palm Stearin · Rapeseed Oil) · Extra Virgin Olive Oil · Brown Rice Flour · Cassava Flour · Whole Egg · Potato Starch · Milk Powder · Cornflour · Sunflower Oil · Xanthan Gum · Egg White Powder · Golden Linseed · Salt (Salt · Anticaking Agent (Sodium Ferrocyanide)) · Psyllium · Osmotolerant Yeast (Yeast · Ascorbic Acid) · Golden Syrup · Millet Flour · Light Cocoa Powder · Vanilla · Yeast · Agar
Contains
Egg, Pistachio, Milk
Please be aware: We are an allergy conscious bakery. Our premises is entirely free from gluten and peanuts. However, we do handle tree nuts, sesame, egg, milk, soya, (gluten free certified) oats, mustard and celery. Every care is taken to reduce the risk of contamination but our products may contain traces.
Shelf Life
This product is baked fresh to order, and is best enjoyed on the day of delivery. If you are not planning on eating it on the same day as delivery, you can freeze it for up to 3 months.
This is because there are no preservatives in this product.