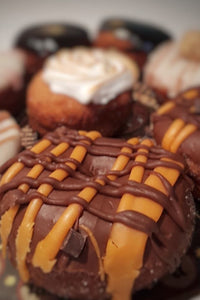 A soft fluffy ring doughnut with an indulgent chocolate orange glaze, topped with orange drizzle and chocolate chunks. 

Gluten free AND dairy free!
Baked fresh to order! Best enjoyed on the day of delivery. See Shelf Life for more information.
Donut, donuts
Ingredients
Flour blend (white rice, brown rice, tapioca, potato starch, cornflour, granulated sugar, golden linseed, psyllium husk, salt, xanthan gum) water, Margarine (Palm Oil, Rapeseed Oil, Water, Salt, Emulsifier: Polyglycerol Esters of Fatty Acids; Colours: Curcumin, Annatto; Flavouring) sunflower oil, eggs, egg white powder, sourdough starter (millet flour, water kefir), yeast
Glaze (icing sugar, water, chocolate chips (cocoa mass, sugar, fat-reduced cocoa powder, soy lecithin*, natural vanilla flavouring), golden syrup, agar, salt, vanilla, orange food colour (Glycerol, Propylene, Glycol, E551, Food Colour: E110, E129). Orange oil, Citric Acid),
Chocolate chips (sugar, cocoa mass, cocoa butter, emulsifier: soya lecithin*, natural vanilla flavouring).
*Soya lecithin should only be avoided by those with a severe allergy.
Please be aware: We are an allergy conscious bakery. Our premises is entirely free from gluten and peanuts. However, we do handle tree nuts, sesame, egg, milk, soya, (gluten free certified) oats, mustard and celery. Every care is taken to reduce the risk of contamination but our products may contain traces.
Shelf Life
This product is baked fresh to order, and is best enjoyed on the day of delivery. If you are not planning on eating it on the same day as delivery, you can freeze it for up to 3 months.
This is because there are no preservatives in this product.
FAQs
Are the doughnuts dairy free or vegan?

Our doughnuts are dairy free, but do contain egg so are not suitable for vegans.
Can the doughnuts be frozen?
Yes! After some experimentation we have worked out how to freeze and defrost the doughnuts so they are still fluffy and tasty.
The doughnuts are baked fresh to order, and best enjoyed on the day of delivery. If you are not planning on eating them soon, you can freeze them for up to 3 months. Just pop the doughnut (in the tub it came in) in the freezer, then defrost completely in the tub. This is because if any humidity gets to the icing as it defrosts, it will melt and run off. Sugared doughnuts are even easier. They can be popped straight in the microwave from frozen (take them out of the tub first as the tub will melt in the microwave!)
We have a video on Facebook on how to sugar and shake your doughnut for the plain doughnut, remove all packaging, pop the doughnut in the microwave on medium/high setting for 30 seconds, pop your doughnut in the sugar bag and shake, then sit back and enjoy!
Are the doughnuts available in the café/shop?
Yes they are, we often have a bigger selection of flavours in our cafe/ shop than online, so it is well worth a visit if you are in Leeds. Check our Leeds Cafe page for our address and opening times.