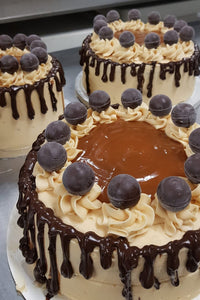 THIS CAKE IS COLLECTION ONLY
A chocolate cake with lashings of salted caramel, topped with delicious rolo inspired confectionary.
NOW IN TWO SIZES! Large Cakes serves up to 14 people, Medium Cakes serves up to 10.
Messages
Add an extra sparkle to your large celebration cake with a personalised iced message.
Select "Yes" from the Custom Message option, then type in your message in the box below
There's a limit of

 

15

 

characters per cake, including spaces. As a guide, you could have "Happy Birthday"
Personalisation costs £2 per cake
This option isn't available for Medium cakes as we simply can't fit it on around the decorations
Please note, we will not decorate your cake unless "Yes" is selected under the Custom Message option.
Ingredients
Sponge (Soya milk, flour blend (Rice flour, potato starch, tapioca starch, baking powder, xanthan gum) caster sugar, margarine (Palm Oil, Rapeseed Oil, Water, Salt, Emulsifier: Polyglycerol Esters of Fatty Acids; Colours: Curcumin, Annatto; Flavouring), water, ground linseed, vinegar, vanilla extract (whole vanilla pods, glycerine, water), baking powder (mono calcium phosphate, corn starch*, sodium bicarbonate) Cocoa powder)
Icing (Icing sugar (sugar, maize starch), margarine(Palm Oil, Rapeseed Oil, Water, Salt, Emulsifier: Polyglycerol Esters of Fatty Acids; Colours: Curcumin, Annatto; Flavouring) Cocoa powder)
Chocolate truffles (shells (sugar, cocoa mass, cocoa butter, emulsifier soya lecithin, flavour.) Caramel ( Glucose Syrup, Palm Oil, Water, Sugar, Invert Sugar Syrup, Pea Protein, Salt, Emulsifier: Mono- and Di-Glycerides of Fatty Acids, Natural Flavouring, Caramelised Sugar Syrup.))
Chocolate drip (Soya cream (Soya Base (Water, Hulled Soya Beans), Sunflower Oil, Sugar, Emulsifier (Sucrose Esters of Fatty Acids), Stabilisers (Xanthan Gum, Carrageenan, Guar Gum), Sea Salt, Flavouring) chocolate chips (sugar, cocoa mass, cocoa butter, emulsifier soya lecithin, flavour.))