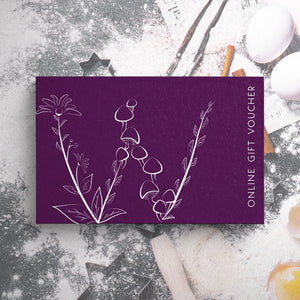 Want to treat your loved one with Wildcraft goodies, but unsure just exactly what they would like? With our E-Gift Card they can choose their own delicious treats and have them baked fresh and sent directly to their doorstep. Sold in £10, £25, £50 and £100 denominations. The perfect gift for the allergy conscious person in your life!
For use in our online shop only. This is not a physical card!
How to Purchase
Choose the amount you'd like to purchase
Checkout as per usual
The E-Gift Card will be emailed to you. This can take up to 24 hours or longer, depending on our order processing times.
The email will contain a unique code that you can use at checkout to redeem it's value. Forward this onto the lucky gift recipient, or print it out to give to them in person!
FAQs
Can my e-gift card be used more than once?
Yes, provided there is still a balance remaining on the card.
What if I want to spend more than the e-gift card amount?
If the balance available on the gift card is less than the order total, then you will be prompted to choose a second payment method for the balance before placing the order.
Can more than one e-gift card be used towards a purchase?
Yes. You can redeem another e-gift card during checkout.
Can my e-gift card be used to buy a e-gift card?
No, you can't use your e-gift card to buy another e-gift card.
Can my e-gift card be used to pay for shipping and taxes?
Yes, e-gift cards are applied to the final order total which includes shipping and taxes.
Can e-gift cards be used in conjunction with a discount code?
Yes, e-gift cards are a form of payment.
How can I check my cards balance?
Unfortunately you can't check your own e-gift card balance, but we can check it for you. Just drop us a line with the last 4 digits of your unique gift card code here.
Terms and Conditions
In order to purchase a E-Gift Card, you will need to register an account with us through our Website. 

Gift Certificates ordered through our Website will be delivered by electronic means to the email address associated with your account. Our E-Gift Cards are made of unique numbers.

Our E-Gift Cards must be redeemed on our Website, as full or part payment of products from our Website. A E-Gift Card cannot be used to purchase a further E-Gift Card.

When ordering a E-Gift Card, you should ensure to enter the email address correctly. We cannot be held responsible if the address is entered incorrectly and someone other than the intended recipient uses the E-Gift Card.

E-Gift Cards cannot be exchanged for cash.

Where Products purchased online with a E-Gift Card are returned, monies owing will be refunded by a E-Gift Card.

We are not responsible if a E-Gift Card is lost, stolen, destroyed or used without permission and no replacement will be provided in these circumstances.