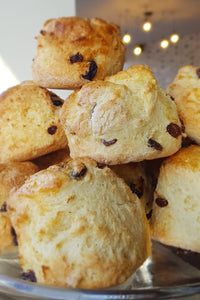 Rich and crumbly fruit scones. Warm them up for a home baked experience.
Bag of 4.
Ingredients
Rice flour, Margarine (Palm Oil, Rapeseed Oil, Water, Salt, Emulsifier: Polyglycerol Esters of Fatty Acids; Colours: Curcumin, Annatto; Flavouring) soya milk (Water, Hulled European Soya Beans), sultanas (sultanas, sunflower oil, sulphur dioxide), potato starch, tapioca flour, egg, baking powder (mono calcium phosphate, corn starch, sodium bicarbonate), xanthan gum, bicarbonate of soda, cream of tartar
NOT SUITABLE FOR DAIRY ALLERGY SUFFERERS due to manufacturing methods

Contains 
Egg, Soya, Sulphur Dioxide
Please be aware: Our premises is entirely free from gluten and peanuts. However, we do handle tree nuts, sesame, egg, milk, soya, (gluten free certified) oats, mustard and celery. Every care is taken to reduce the risk of contamination but our products may contain traces.
Nutrition
Nutrition Information per 100g
Energy (kJ)
1141
Energy (kcal)
273
Fat (g)
8,4
Saturates (g)
2.7
Carbohydrate (g)
44
Total Sugars
12
Fibre (g)
1.4
Protein (g)
4.6
Salt (g)
0.45
Shelf Life
Scones can be stored at ambient temperature for 2 days or frozen for up to 3 months.