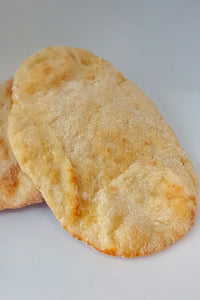 Rip them, dip them, stuff them, eat them. Soft and floury heaven!
Sold in multiples of 5. Vegan friendly.
Ingredients
Flour blend (white rice, brown rice, tapioca, potato starch, cornflour, granulated sugar, golden linseed, psyllium husk, salt, xanthan gum) water, sunflower oil, sourdough starter (millet flour, water) yeast
Please be aware: Our premises is entirely free from gluten and peanuts. However, we do handle tree nuts, sesame, egg, milk, soya, (gluten free certified) oats, mustard and celery. Every care is taken to reduce the risk of contamination but our products may contain traces.
Shelf Life
This product is baked fresh to order, and is best enjoyed on the day of delivery. If you are not planning on eating it on the same day as delivery, you can freeze it for up to 3 months.
This is because there are no preservatives in this product.