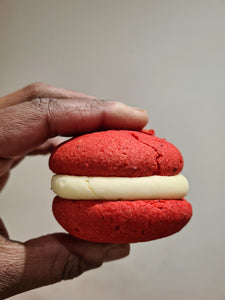 Ready to enjoy straight out the pack, these two red velvet whoopie pies are sure to tantalize your taste buds! Our signature bake is a delightful cross between a cookie and a cake, with a vegan-friendly recipe that's sure to satisfy. Inside the Red Velvet cakes you'll find a delicious Vanilla Buttercream and a Secret Centre of Apple & Blackberry Pie Filling. You won't be able to resist these velvety treats - delicious to the last bite!
Please note, Whoopies are now sold in packs of 2
Shelf Life:
Good for 3-5 days after receipt or can be frozen up to 3 months. In a warm room whoopies will defrost in 30-40 minutes. They will then keep for up to 3 days provided they are covered.
Ingredients
Light Brown Sugar · White Rice Flour · Water · Vegan Butter (Water · Rapeseed Oil · Palm Oil · Salt · Stabiliser (Sodium Alginate) · Emulsifiers (Mono- and Di-Glycerides of Fatty Acids · Polyglycerol Polyricinoleate) · Acidity Regulator (Citric Acid) · Flavouring · Colour (Annatto Bixin · Curcumin) · Vitamin A · Vitamin D) · Icing Sugar (Icing Sugar · Anti Caking Agent (Calcium Phosphates)) · Cassava Flour · White Beans (Cannellini Beans · Water · Firming Agent (Calcium Chloride) · Antioxidant (Sodium Metabisulphite)) · Creamed Coconut · Coconut Flour · Apple Filling (Water · Dehydrated Apple Flake · Sugar· Modified Starch· Acidity Regulator (Citric Acid) · Preservatives (Sodium Meta-Sulphite· Potassium Sorbate) · Blackberry Filling (Blackberries · Sugar · Acidity Regulator: Citric Acid) · Vinegar · Golden Linseed · Bicarbonate Of Soda · Baking Powder (Sodium Bicarbonate · Sodium Aluminium Sulphate · Maize Starch) · Salt (Salt · Anticaking Agent (Sodium Ferrocyanide)) · Xanthan Gum · Red Colouring (Humectant: E422 · Thickener: E551 · Silicon Dioxide · Colour: E124 & E104) (E104 & E124 May Have An Adverse Affect On Activity And Attention In Children)
Please be aware: Our premises is entirely free from gluten and peanuts. However, we do handle tree nuts, sesame, egg, milk, soya, (gluten free certified) oats, mustard and celery. Every care is taken to reduce the risk of contamination but our products may contain traces.