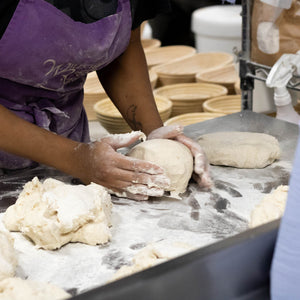 Dive deep into the science of gluten free baking with this one-of-a-kind class! Our expert instructor and founder Mina will teach you the fundamentals of gluten free that she has spent over 10 years honing. She will share some of her hard-earned industry secrets so you can get a massive boost forwards on your gluten free baking journey
With our science-based approach and plenty of experimentation, you'll gain skills that will last a lifetime! Plus, you'll enjoy a light dinner - all in a fun and unique experience!
As part of this course, you will:
Get the opportunity to dive deep into the science of what makes Wildcraft tick!
Get to experiment and taste a whopping 14 different gluten free flours
Learn how to make your own Gluten Free Flour Blends that can take into account most food intolerances and allergies
Learn about how to use hydrocolloids in baking and how they can be used as a substitute for gluten.

Learn about the science of staling and why that's so important for gluten free bakes
Learn how to convert (most) gluten recipes into gluten free alternatives
This is a course that has been designed for those of you who want to have the knowledge and understanding to be able to develop your own unique bakes and recipes, as well as ask all those burning questions about why your bakes at home keep failing! 

How long is the course?
The class runs from 5:30pm to 9pm. 
Where to find us?
Our address is 6-10 Green Road in Meanwood
What time should I arrive?
Please aim to arrive around 15 minutes before the class starts, we'll be here ready to greet you with the kettle on!
Is Dinner provided?
Food and refreshments provided.
Can I buy a place as a gift for someone else?
Yes of course! Please just pay for the class as normal and in the notes section of the order if you can add that it's a gift & we will ask for some additional info after. Alternatively you can purchase a Gift Card when you check out and you will receive a hand designed card confirming a place in the class emailed to you.
Are the bakery and classes accessible?
The course is fully accessible and delivered around the tables of our cafe. If you have any concerns around mobility, please let us know when booking by emailing us at info@wildcraftbakery.com.
There are no dedicated disabled parking spaces on the Estate but there is plenty of parking available behind the bakehouse that is all level access.  
Mina who teaches the classes is Autistic and ADHD and Wildcraft is a bakery that is run and owned by Neurodivergent people so we are very used to accommodating various sensory and language processing needs. Just let us know in advance by emailing info@wildcraftbakery.com so Mina can tailor the course material appropriately. 
Where can I park?
Parking is available opposite the bakery on Green Road as well as behind on the precinct. 
What's the refund policy if I can't attend?
We are happy to refund your ticket in full with a minimum of 30 days notice. We will also provide a full refund if we are able to fill your place from our waiting list for the class, if applicable. Alternatively, we are more than happy for you to transfer your ticket to someone else but you will need to sort out the financial aspect between yourselves.
You are also able to transfer your ticket to an alternative date, with at least 14 days notice subject to availability.
What if the course is cancelled?
We reserve the right to cancel the course for any reason, for example if there are insufficient bookings. We will give you as much notice as we possibly can, and if we do have to cancel we will issue a full refund. Unfortunately we are unable to automatically transfer you onto another class but we will let you know if there are any forthcoming dates available you are able to book on to.